When you enter your search words "loudest portable speakers" you would expect to find a post that tells you about the loudest speaker that is portable. What could be so easy? But it's not that simple.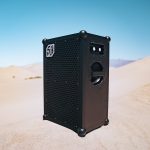 I've spent over 20 hours researching this very topic and what you find are lists that say the product is "one of the loudest on the market" but doesn't give you the decibel (dB) rating to back it up. So, you end up with multiple products all "one of the loudest" and no idea which is the loudest.
Rest assured you won't have any of those difficulties. I've listed the loudest speakers that are portable.
If you want to check out the loudest, click on #1 in the table below.
Or read on to see the criteria I used to produce the list.

What Ranking Criteria Did I Use?
The ranking is based solely on loudness from highest to lowest.
All the products listed are portable.
I highlight other information like the sound quality and battery life because you may decide to sacrifice some loudness for longer battery life or a better-quality sound.
But I'm only listing portable speakers and ranking them purely by which is the loudest.
What Is My Measure of Loudness?
The measure used to determine loudness is the decibel rating of the speakers.
Two values determine loudness:
Decibels (dB) – the number of decibels is a measure of a speaker's efficiency output with a specified amount of amplifier power.
Power rating in Watts – the maximum amount of power that can be handled by a speaker.
The more important value is decibels. The power rating doesn't always equate to loudness as it needs to be combined with the number of decibels. And the manufacturers don't provide a consistent measure of power wattage so, without that it is difficult to calculate what the actual loudness might be. At least with decibels, you can tell the nominal loudness and therefore have a consistent basis for comparison.
The ranked list:
Only contains speakers that have a sound rating above 90dB's.
Excludes some well-known speakers because the manufacturer does not publish dB figures for their product.
How Do I Define Portable?
Loudness only comes with size. And with size comes weight.
So, it is no surprise the speakers with the highest ratings are the heaviest.
Only those that can be carried and can survive outdoors make it to my list. Some test the outer limits of portability and most are not for backpacking.
Other Key Factors – These Don't Affect the Ranking
The list is in order of loudness. But I do include info on other important aspects:
Battery life?
Sound quality?
Weatherproof?
Connectivity?
If you're out in the boonies away from it all, you want your battery to last. Depending on your needs you may decide you're prepared to sacrifice loudness so you can party on for much longer. You may pick a lower-ranked product for that reason.
Similarly, some products experience distortion at higher volumes. You may decide to sacrifice loudness for better sound quality and again pick a lower-ranked product.
You may also be concerned about whether it can handle miserable weather conditions or water at the beach or pool.
Also, there may be connectivity issues.
But the key listed criteria are:
the loudness of a product
that it is portable, powered by batteries
and doesn't require a connection to a power outlet.
The loudest – period


This speaker meets, if not exceeds, all the criteria. On the most important, it is the loudest speaker blasting out a sound of 122dBs that is almost at the level the human ear can stand without suffering immediate damage.
And this is what you need in wide-open areas like the beach, your local block, your backyard or even an open field for your local music festival. If the sound is not encompassing enough, buy the optional Proboks to hook up another five Soundboks speakers. Or buy just one more speaker to get a stereophonic sound.
Long battery life for all-night partying.
At average volume, the best military-grade batteries can keep going for 40 hours longer than most folks can party. Even if you wind up the volume, it'll still be going in the wee small hours of the morning.
At full volume, you're likely to get up to 8 hours.

Partying the next night is no problem as it only takes 4 hours to recharge the batteries fully.

Or you can buy an extra one to ensure the music never stops.
Portability on all counts
It's not light at 33lbs., but then you're not going to be carrying it for hours on end. If it's not too far, you can bring it on your shoulder or make it a two-person job. But if it's going to take a while to get to the beach or the lake, you can always buy the carry straps for backpacking.
But portability means more than weight. And the Danes have got this covered.
It

has a shockproof casing to handle any rough handling

and perhaps the odd dropping or two.

It is

built to survive extreme temperatures and all sorts of adverse weather.

It's showerproof but not waterproof so don't go dropping it in the water and expect it to recover from the soaking.
Even though the Soundboks 2 doesn't have an IPX rating, there's enough evidence to demonstrate it can survive the worst weather.
What about sound quality?
That's where you get varying opinions.
Plenty of folks say the music is excellent at any setting and, there's no distortion at high volume.

As a high-resolution audio enthusiast, you might be disappointed with the midrange definition and instrument separation.

And there are concerns about the quality of the bass sound, especially for inside use. But if you turn down the sound on the Soundboks and turn up your source music the bass comes through beautifully.
No Issues with Bluetooth Connections
The Bluetooth 3.0 connects to any device. The connection stays stable up to 60 feet with free line-of-sight. But, like most Bluetooth connections the distance reduces considerably with any obstructions.
Soundboks 2 – What I Like
The loudest sound at 121dBs.
Take anywhere in any weather.
No problems with battery life – it keeps going as long as you can.
Soundboks 2 – What I Don't Like
It's too heavy for me to take backpacking.
I wish it were less expensive.
Click here for a detailed review of the Soundboks 2.
Or click here to check out the Soundboks 2 on Amazon.
Not Quite as Loud as the Soundboks 2
When it comes to the dB rating it's neck and neck with the Soundboks 2.
The DiamondBoxx XL2 is only 1dB less at 121dBs.
The Price Delivers Sound Quality & Strength
It's a price though that delivers a handcrafted speaker made with quality materials. The 500 mils thick wooden MDF enclosure of the DiamondBoxx means:
The

sound quality is so much better than what you get with plastic.

The braced MDF and aluminum front panel make for an

improved bass-sounding experience

.

The enclosure is

so sturdy

you can sit or stand on it without causing any damage.
The manufacturer claims the DuraTex™ finish provides protection in all conditions, but they don't list an IPX rating so don't risk placing it too close to the pool or thinking it will survive extreme wild and wet weather.
There's More to the Sound Quality
It's not just the enclosure that enhances the sound quality.
The quality components that create the sound are too complex to list here. But, they combine to:
Produce a

distortion-free sound

at any volume level.

With a

loud deep bass

(down to 35 Hertz).

And a

rich, high-performance sound

.
Boost Loudness
You can wirelessly link to another XL2 for an extended stereophonic experience that reaches 127dB output.
Or the ultimate.
Link with 25 other XL's to create a massive wireless array for an epic concert volume nirvana.
At the Price, the Battery Life is Ok But…
You can hook the DiamondBoxx to a power outlet, or the new generation Lithium-ion battery (used in Tesla cars) provides hours of heart-pumping listening. At full blast, the manufacturer claims you'll get 6 hours with the larger 462 Watt-hour battery or up to 50 hours at low to moderate volumes. The larger sized battery takes 6 hours to recharge from the dead (3 hours for the smaller 231 Watt-hour).
What concerns me about the battery though is that it is built-in.

Make sure you're making the right decision when buying.

You can't replace it
The manufacturer says it fully charges and discharges 1000+ times. If you did this every second day, it would last six years and keep 80% of its capacity. But for me replacing a battery is a must.
I don't like wasting heaps of money to find the battery didn't last.
Connectivity is No Issue
As far as connectivity goes there's no problem connecting to any of your Bluetooth enabled devices within a 45-foot range.
The built-in strength of the DiamondBoxx has a downside though because it weighs a hefty 41 lbs. There's a premium leather handle for carrying it, but at that weight, before I get to the party, I'd be stopping a few times, to give my arm a break.
The Price Might Turn You Off
It's the price that's the killer. If you think the Soundboks 2 is expensive, make sure you're sitting down when you look at the price tag for the DiamondBoxx.
DiamondBoxx XL2 – What I Like
At 120dBs, its loudness is only 1 dB less than the Soundboks 2, so it's loud, and you're unlikely to be able to tell the difference.

The handcrafted, high-quality components make for rich bass and crisp, high-quality sound that doesn't distort at the highest volume level.

It's sturdy and durable – you can even stand or sit on it.
DiamondBoxx XL2 – What I Don't Like
At full blast, you only get 6 hours of playtime with the larger 462 Watt-hour battery compared to the 15-20 hours of the Soundboks 2.

The battery is not replaceable even though the manufacturer claims a longish life (choose the larger 462 Watt-hour battery).

Only has a handle for carrying. You might want to add a backstrap to alleviate any strain.

Limited protection from water.

The cost is well above other similar products, but it's worth it.
Click here for a detailed review of the DiamondBoxx XL2.
Or click here to check out the DiamondBoxx XL2 on Amazon.
Still Loud But With a Mid-Range Price


The
price
of the ION Road Warrior
fits into a mid-range budget delivering a decent-quality rather than a high-end quality speaker.
But it is still loud at around 113-115dBs with an angled cabinet that blasts the sound upwards as well as outwards.
The ION is up there in the same league as The Soundboks 2 and the DiamondBoxx XL.
No problems there for your outdoor activities.
Aside from the Bass, the Sound Quality is a Let-Down
Unfortunately, you'll experience problems with sound quality:
 The bass is huge but can lose its richness at the higher volumes.

And the bass tends to drown out the lower midrange frequencies which lack some clarity anyway.
But if you want a loud sound with a booming bass to rock your party, the ION fits the bill.
Not as Sturdy or Weatherproof
The body construction is mainly of hard industrial plastic with some wood, aluminum parts, and metal reinforcing. Sturdy, but I wouldn't be sitting or standing on it. And the manufacturer doesn't talk much about its build, so you're unlikely to have it last as long as the Soundboks or the DiamondBoxx. There's no mention of an IPX rating so I wouldn't be exposing it to any water or rough weather.
Along with the sturdiness comes the weight of 28 lbs. which is lighter than either of the top 2. It means you're unlikely to be lugging it on your shoulder, but there are recessed handles on the sides to help with the carrying.
Questions About Durability of the Battery
A common theme in the reviews is the quality of the rechargeable battery. The battery life rating is 12 hours, but like all speakers, that's if you're not playing it on high volume. So, at high volume, life is more like 4-5 hours.
The problem is the durability of the battery. Some customers have complained that it weakens fast after a couple of months of usage, even to the extent of being unusable within twelve months. It is replaceable at under $20, but that's not the point. It should last longer.
Bluetooth Connects Seamlessly
The Bluetooth connection to Android or Apple works fine, and without any obstacles, you'll have no issues streaming audio for 50 feet or more. But not likely at 100 feet as the manufacturer claims.
ION Audio Road Warrior – What I Like
The sound is the third loudest at 113dBs.

The bass is to die for.

Sturdy build that means it can handle carrying and outside use.
ION Audio Road Warrior – What I Don't Like
It's heavy at 28 lbs. although the sturdy recessed handles help make it easier to carry.

The midrange tends to be drowned out by the heavy bass.

Not waterproof so don't go near the pool with it.

The durability of the battery is questionable.
Click here for a detailed review of the ION Audio Road Warrior.
Or click here to check out the ION Audio Road Warrior on Amazon.
Affordable and Loud
The NYNE ROCK is the most affordable so far.
Yet for the far smaller price, it blasts out a surprising 107dB.
I don't know how they do it for the money.
Lighter to Carry with Protection from Knocks and a Drizzle of Rain
The NYNE speaker has a unique and funky shape that looks rugged and tough. And it's undoubtedly built that way with flexible black aluminum mesh to protect the drivers, with rubberized bumpers on the sides, and along the bottom.
The rubberized and mesh protection results in an IPX3 rating. The manufacturer says this rating means it is dust protected, but in fact, the X means there is no rating for solid material protection. The three though does mean it has a degree of waterproofing by way of protection from sprayed water. So, a little drizzle of rain won't hurt it or a slight spillage, but that's all. I wouldn't risk taking it too close to the heavy splashing of water at the pool.
The weight at 12 lbs. is much lighter than the speakers we've reviewed so far. Being lighter makes it easier to carry especially with a built-in concealed carry handle on the rear panel at the top. But it's not for backpacking.
Decent Sound Quality with a Chance to Boom Louder
For the money, you get a decent sound quality that is bass-oriented which is what you want when you're pumping out music at an outside party. The mids are more than acceptable and the highs crisp. You can notice the distortion when you boost the volume up high especially when you're indoors.
All the drivers are in the middle, so there's no stereo sound to the music.
If you have the budget, you could splurge to buy a second speaker and link them for a stereo effect.
If you want to shatter the sound barrier, you can use the line out port to connect four ROCK's.
Be careful not to stand too close.
Another Built-in Battery with Reasonable Playtime
The battery is built inside the speaker, so it's not replaceable, which I find annoying because:
You could lose your whole investment if you get a battery that fails on you outside of the warranty period

Or you must rely on the AC adapter and connecting to a power outlet.
It is a quality lithium-ion type battery and provides up to 12 hours playtime at moderate volumes or half that at higher levels.
Connects to Bluetooth with Terrific Sound Quality
Connection to any Bluetooth device is no problem. The sound quality is unimpaired out to a distance of 100 feet, according to the manufacturer. It's likely to be less than 100 feet and providing there are no obstacles.
NYNE ROCK – What I Like
It's more affordable than the Top 2 but you still get an ear-pumping 107dBs.

The decent bass-oriented sound quality which is ideal for outside parties.

It has rubberized and mesh protection with an IPX3 rating which means it can survive a little drizzle of rain.
NYNE ROCK – What I Don't Like
You can notice the distortion at the higher volumes especially indoors.

The battery is not replaceable so your portability could be limited if the battery fails.

Much lighter at 12 lbs. than the top 2 but it's not for backpacking.
Click here for a detailed review of the NYNE Rock.
Or click here to check out the NYNE ROCK on Amazon.
It's a Loud Portable Speaker at 100dBs
Number 5 is the first of three speakers to have a rating of 100dBs.
Marshall Kilburn II comes first because of its longer playtime of 20 hours at moderate volumes on a single charge. And what's good too is, with a quick 20-minute charge you'll get an extra 2 hours of playtime. A full battery charge takes 2.5 hours. But the battery isn't replaceable which always annoys me.
At 100 dB's we still have a speaker that's loud but in a lower sound bracket than the Soundboks 2, DiamondBoxx XL2 or the ION Road Warrior. And it's much less of a drain on your pocket than the top 2. More in keeping with the cost of the ION Road Warrior.
Surprising Sound Quality for Its Size – Not For Everyone
The sound quality is up there and for its size matches the top three. The sound though is not for all types of music. It doesn't suit classical, but it's excellent for rock, metal, punk, or folk. With its guitar rock heritage, the Kilburn II remains clear, crisp, and balanced from low to high volume. It has a rich and thumping bass although that gets a little muddy at times.
I especially like being able to adjust the bass and treble controls. Unusual for these days, the knobs are analog so you can fine-tune it to the sound of your choosing. And while it is one box, there is a little right and left separation that provides an element of stereo sound.
Retro and Solid For Outside Partying – Keep Away from Water
The Kilburn II has the retro-look typical of Marshall products, which I like but it may not be to everyone's taste.
It's solidly constructed with flat corner caps that provide protection, but it won't survive rough handling like the Soundboks.

It does have an IPX2 rating which means it can withstand some drops of water, but

it's not for wet weather or water splashes at the pool

.
Lighter to Carry Than the Top 4
At 5.5 lbs. it's way lighter than the top 3. You may find it a little heavy if you're carrying it around for a while even with the guitar-style carrying strap. And even at this lighter weight, like all the top 4, it's not for backpacking.
Bluetooth Doesn't Stream As Far
Connectivity is no issue with the Bluetooth 5.0 aptX technology. The manufacturer says that streaming to a device is only reasonable to a range of 30 feet from the speaker. This is much shorter than what is available in the top 4 speakers.
Marshall Kilburn II – What I Like
A loud (100dBs), but at the same time, high-quality sounding speaker across the volume range.

It has an extended playing time for its size with a quick 20-minute charge to give you another 2 hours.

Eye-catching nostalgic design.
Marshall Kilburn II – What I Don't Like
It is expensive for its size.

Lighter in weight but still not portable enough for backpacking.

Only minimally waterproof.
Click here for a detailed review of the Marshall Kilburn II.
Or click here to check out the Marshall Kilburn II on Amazon.
The Second of the 100dB Portable Speakers
The Aiwa Exos-9 Bluetooth Speaker is another speaker that blasts out 100dBs. It does this by pumping out 200 watts of continuous power for the five high-performance acoustic drivers.
Boombox Look with No Modern Services
Its style is reminiscent of the cassette boomboxes of a bygone era. That's ok if you're into nostalgia but not very exciting with its black-boxy, bulky yet simple look. And that lack of modernity extends to the lack of up-to-the-minute services like AirPlay, Google Cast, voice assistants, and Spotify. There's not even a smartphone app to control the speaker.
A Standout Portable Speaker with a Sound that is Loud and True
It's redeeming feature though, and the reason you'll buy the Exos-9 is its loudness combined with the sound quality.
The new Aiwa company has poured all its money into delivering the sound. This spending provides a speaker where maximum volume doesn't distort the sound or reduce its quality. Not many large or small Bluetooth speakers can do this no matter the price range.
At whatever volume, you'll experience:
A

well-balanced sound

with punchy bass, full mids, clean, crisp highs, and no clipping.

If you're into heavy rock, you won't be disappointed with the

bass. It's rich, powerful, and precise, never muddy, and doesn't bleed

into the mids.
Ultimate Control of the Sound
What is impressive too is the control you have in delivering the sound of your choice. There's a customizable 5-band onboard graphic equalizer that lets you tune to your heart's content.
And if that's not your thing, choose from one of the four pre-sets provided. It means you've got every genre of music covered as well as podcasts and audiobooks.
While the Exos-9 does play in stereo, don't expect the full sweeping experience of a customized home-based stereophonic sound. It's a narrow sound because of the proximity of the woofers to each other.
You can link two Exos-9 Bluetooth speakers to improve your stereo sound or mirror them to rock your block party. Some customers though have reported difficulties with the link dropping out. Resetting the connection takes a little while so it'll pay to test things before you try it live.
A Reasonable Battery Life
While you're out and about, you can expect a battery life of 9 hours according to the manufacturer. And like all such estimates, that's using it at moderate volumes. If you crank up the sound up, you can halve that life.
You can buy a separate "extended battery" which provides another 18 or so hours of listening.
It'll Last But Not in the Rain
While mostly made of plastic, there have been no complaints about durability, so it can handle being moved about and even withstand the heat of the sun.
But it has no dust or waterproof rating which could be a problem if the weather turns on you.
Another Loud Portable You Won't be Taking Backpacking
At 13 lbs., the Aiwa is not light, so it's not for backpacking. You could carry it around on your shoulder for a while or use the one arm hand grip at the back, but that can be awkward walking through doorways. Or you could shell out for a carrying case if you're often on the move.
Bluetooth Works But Not As Far As the Top 4
According to the manufacturer, the Bluetooth connection works to 50 foot. But, don't count on it being that far, and there's always a chance of dropout if there are any obstacles.
Aiwa Exos-9 – What I Like
The loud 100dBs distortion-free quality sound even at max volume.

A well-balanced sound with punchy bass, full mids, clean, crisp highs, and no clipping.

The customizable 5-band onboard graphic equalizer gives you full control over the sound you want.
Aiwa Exos-9 – What I Don't Like
I can be nostalgic but not with this design.

It's awkward to carry so buy a carrying case if you're taking it out and about often.

No dust or waterproof rating so make sure you have some protection if the weather turns on you.
Click here for a detailed review of the Aiwa Exos-9.
Or click here to check out the Aiwa Exos-9 Bluetooth Speaker on Amazon.
The Most Affordable Yet Still Pumps Out 100dbs
The OontZ Angle 3XL Ultra is impressively affordable.
Yet like the Kilburn II, and the Exos-9, it can produce an ear pumping 100dBs. Let's have a look at how they do it.
There's a high-performance digital audio processor that works with two 2.75inch stereo drivers and two tweeters to produce the

mids and highs

.

The

bass

comes from three bass radiators — all by way of 24 Watts of power.

The indoor/outdoor switch dramatically changes the profile of the 3XL.

With the

outdoor mode

, the 3XL

concentrates on projecting the sound outward with the bass radiators largely unused

. This could explain why some customers complain about the weak bass sound lacking impact.

Change it to the

indoor mode

and

the impact is noticeable

. The bass is deep, punchy, and in your face.
Tremendous Sound Quality –  Listening is a Pleasure with The Oontz
In both modes, the mids and highs are clear and detailed, sound natural, and produce exactly the right balance. You'll get that sound across the whole volume range except for slight distortion at full volume, but that's nowhere close enough to ruin the experience.
Don't expect any stereo separation because you won't get it. If you want and can afford it, you can pair two speakers to enjoy a better stereophonic sound. But the pairing only works between 3XL Ultra's and not with the previous Angle 3XL model.
Oh So Light And Easy To Carry
The chassis is built of plastic with the edges made of brushed aluminum and some parts reinforced with rubber.
So, there is some protection for outdoor use, but it doesn't have the sturdiness or robustness of the much heavier Soundboks 2 or the DiamondBoxx. It's not heavy at 2.44 lbs., and the unique triangular shape with no sharp corners makes it comfortable to hold on one hand.
Remember though to hold it in the middle because the speakers are at each end and could be damaged with the pressure of holding on to the ends with both hands.
If you're going to use the Oontz much outdoors or for traveling, I'd suggest you fork out a little cash for the fitted case.
An IPX Rating That Makes it Ideal for Your Next Pool Party
The 3XL Ultra has an IPX 5 rating so you're good to have it nearby the pool as it will survive water spray and splashes. But don't drop it in the pool. It can't survive being submerged. Nor is it dustproof otherwise it would be IP65-certified so don't believe the manufacturers claim on this count.
Unbeatable Battery Life For Its Size – Keeps The Music Going to the Last Partier
Fully charged the replaceable and rechargeable Lithium-ion battery gives you up to 8 hours of playtime.
Interestingly, most manufacturers rate their playtime based on 50% volume, but the Oontz 3XL Ultra rate is based on two-thirds of the maximum volume. So, compared to other speakers the rated playtime is more like 10 hours which is more than enough for a day at the beach or to party through the night.
At full volume, you get half that much time, so I recommend you have a standby battery ready to make sure the party doesn't die for lack of music.
Simple and Quick Connection to Bluetooth – No Waiting to Get the Party Going
Depending on your phone and with no obstacles you can get a constant connection without dropouts at a range of 100 feet. According to the manufacturer, this is because of the advanced antenna design. I'd suggest the range might be a little shorter than that.  You can also connect to an Amazon Echo, Amazon Echo Dot, iPad, or Tablet.
OontZ Angle 3XL Ultra – What I Like
At 100dBs, with the inside mode, the bass is rich, deep, and punchy just right to keep the party swinging.

In both modes, the mids and highs are crisp and detailed for a natural sound.

The splash-proof IPX5 rating is ideal for your pool party.
OontZ Angle 3XL Ultra – What I Don't Like
The weaker depth of bass using the outside mode means a less thumping sound at your party.

Having to remember not to carry it end to end because you could damage the speakers.

Portable but it's it doesn't have the sturdiness of the heavier speakers.
Click here for a detailed review of the Oontz Angle 3XL Ultra.
Or click here to check out the Aiwa Exos-9 on Amazon.
Verdict
If you want the loudest portable speaker, the Soundboks 2 is the clear winner. It has the loudness (121dBs), can be carried to your party or festival, is sturdy and weatherproof, and finally, the battery provides the most playtime of all the speakers on the list. But it is expensive.
If your budget can't stretch to the Soundboks 2 go for the way more affordable Oontz Angle 3XL Ultra. It's still loud at 100dBs, far easier to carry (2.44 lbs.) and can handle some splashing at the pool. It's nowhere near as sturdy or has as long a playtime, but the battery is replaceable, so you can also have one on standby to keep the party going. If anything, the sound quality is better, but it's not the speaker for the 100-plus party in the great outdoors.
If you have a mid-range budget, you don't mind the retro look and are happy with 100dBs, look at the Marshall Kilburn II speaker. It's got the sound for rock, metal, punk, or folk and the playtime of 20 hours at moderate levels almost matches that of the most expensive DiamondBoxx XL2. It's durable, can handle a few drops of water, is lightish at 5,5 lbs., but not robust like the Soundboks 2.
You now have the definitive list of the loudest portable speakers in 2019.
And the info you need should you have budget limitations, want a different sound, a lighter carrying weight or longer playtime.
Over to you.