The best sounding small Bluetooth speakers – thanks to their stunning audio quality, durability, and portability – are indispensable devices in this day and age for any music enthusiast. Today, music has become so much more than just an enjoyment – it is a form of therapy; a gateway that leads you into a world full of bliss.
Whether you are headed to the beach to soak in the summer sun, or off to the garage – the best-sounding Bluetooth speakers are like loyal companions that will always keep you company and never leave your side.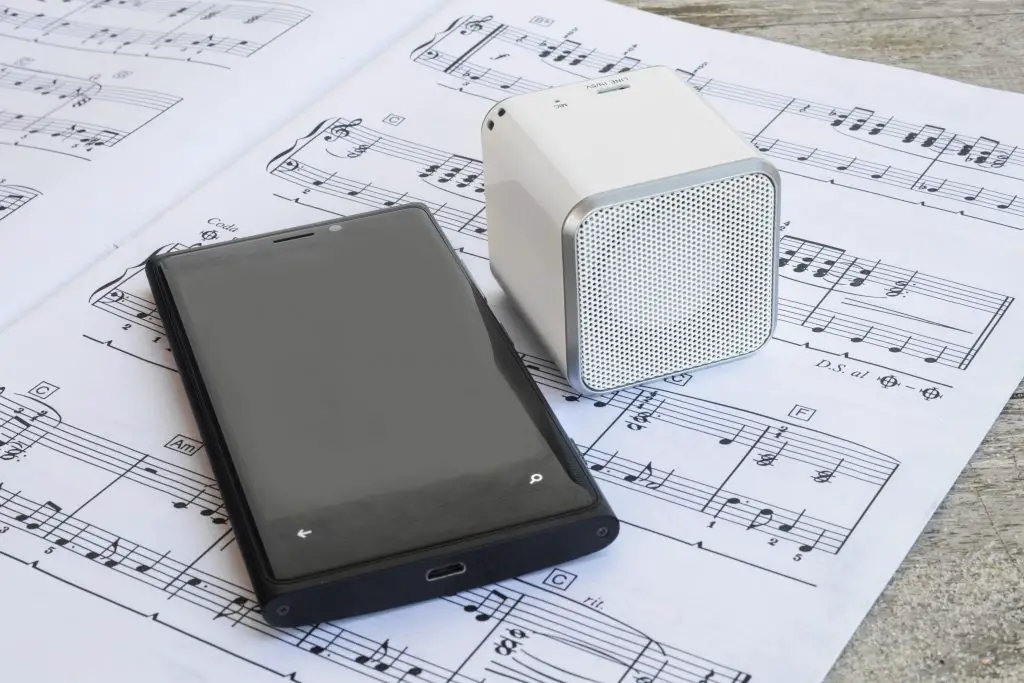 Owing to their immense popularity, Bluetooth speakers come in all shapes, sizes, and will a wide range of features. While such variety promises tremendous choices, it can also make finding the perfect Bluetooth speaker more challenging.
Luckily for you, we have conducted the research, and, in this guide, we will present the top Bluetooth speakers on offer, complete with a review of their best features as well as any drawbacks. Moreover, we will also discuss the factors that you should consider before buying a Bluetooth speaker.
So, without further ado, let us get down to it.
Pros
High-quality drivers
Patented bass port
Digital signal processor
Portable and lightweight design
Cons
Does not come with an aux cord.
We should start by cautioning you that Anker Soundcore is so good that it might end up being your primary home speaker as well in addition to being your premium choice for on-the-go music.
Alongside a couple of high-quality drivers, this Bluetooth speaker also brags a brilliant, patented bass port. Furthermore, the BassUp digital signal processor takes care of analyzing low frequencies and producing a more intense real-time bass.
Also, you can enjoy effortless connectivity with Anker Soundcore's Bluetooth 4.2, which ensures swift pairing and a strong connection for a distance of up to 66 feet.
Lastly, the speaker has been designed to be portable and lightweight, which means that it can be your perfect soundtrack choice whether you want to enjoy music in the comfort of your sitting room, or anywhere else from the park to the poolside – the IPX5 rating promises full-fledged protection from liquids.
Buy the Anker Soundcore here on Amazon.
Pros
Balanced sound
15 hours of battery life
2-year warranty
Cons
 An upcharge for the separate charging dock
When it comes to convenience and fun, you just cannot go wrong with the UE Boom 3. With a size that is deceptively small, the speaker can produce some incredibly pleasant and balanced sound.
The waterproof, cylindrical has a battery time of 15 hours, along with a Bluetooth range of 100 meters. It is also available in multiple colors and is the perfect choice for music lovers looking to up the bass.
If this is not enough, the UE Boom 3 is backed by a 2-year warranty.
Buy the UE Boom 3 here on Amazon.
Pros
Cost-effective
Clear sound
Waterproof
Cons
Problems with certain USB ports
Tribit is one of the lesser-known brands, but music lovers are gradually waking up to its insanely cost-effective line of Bluetooth speakers – out of which, the StormBox is perhaps the best.
The 7-inch, pill-shaped portable speaker contains passive radiators and dual firing drivers, boasting impressive sound clarity. Additionally, the 'extra bass' button can add a bit of a thump to the music.
With a waterproof rating of IPX7 and a 20-hour battery timing, the speaker can also be an excellent choice for when you wish to treat yourself to a river trip.
Although it might not be able to power a trance dance arrangement by itself, the Tribit StormBox is certainly a bargain and sounds surprisingly well, considering its reasonable price.
Buy the Tribit StormBox here on Amazon.
Pros
360-degree feature
High-quality sound
Deep bass
Cons
Problems have been reported with some chargers
As good as portable speakers are, many of them pose a problem – the sound they produce might be too loud for some people, and not loud enough for others.
However, Bose Soundlink Revolve's 360-degree feature essentially solves this problem. Since this portable speaker delivers music from all sides, every listener enjoys the same volume and level.
Although there are several other 360-degree speakers available, the Bose Soundlink Revolve, with its sound that is full enough to drive a party, along with its more pronounced lows, is a level above the rest.
Buy the Bose Soundlink Revolve here on Amazon.
Pros
Simplistic design
High-quality sound
Available in multiple colors and an eco-friendly version
Cons
Cannot be used as a speakerphone
Many people believe that the best Bluetooth speaker is the one with the best specs. However, JBL Flip 5 shows that this is not always the case.
Although the speaker is simplistic with modest features, it does not disappoint users looking for a great-sounding, rugged Bluetooth speaker.
In addition, the IPX7 waterproof rating, coupled with its neat design, makes the JBL Flip 5 perfect for outdoor use as well.
The speaker comes in a range of funky colors. Furthermore, the Flip 5 is now also available in a limited, eco-friendly model, made up of 90% recycled plastic and entirely biodegradable packaging.
Buy the JBL Flip 5 here on Amazon.
Pros
Decent sound quality.
Minimal distortions.
Pairable with other Envaya speakers.
Cons
Does not deliver much as an individual speaker
A typical Denon Envaya speaker might not stand out that much. However, once you pair the three speakers together, it is a different story.
The largest model – an 8-inch DSB 250BT – is a pure treat, while the two smaller models pack a punch as well.
The Envaya produces a more-than-decent sound without creating any distortions. Furthermore, the clarity and range of audio add life to any playlist in a way that any bargain speaker will find it hard to.
Every Denon Envaya speaker can deliver 10 to 12 hours of playtime, alongside being waterproof and pairable with other Envaya speakers.
Furthermore, the speakers are accompanied by a mic and, with it, the ability to make and receive calls.
Buy the Denon Envaya here on Amazon.
Pros
A 12-watt speaker.
Waterproof.
Excellent battery.
Cons
The Soundcore 2 has multiple upgrades to the original Soundcore model. First of all, the newer model comes with 12-watt – instead of 6-watt – speakers, thereby producing a beefier sound and a fuller bass.
In addition, the Soundcore 2 is entirely waterproof and can be taken to from the pool to the ocean without any worries.
Another one of the speaker's brilliant features is its battery life, which, according to many reviewers, is stunning. The speaker can go multiple days without needing a recharge.
Buy the Anker Soundcore 2 here on Amazon.
Pros:
Strong audio quality
Waterproof up to 5 feet
Bluetooth range of 100 feet
Cons:
If you are looking for a poolside companion, look no further than the Ultimate Ears Wonderboom 2. According to UE, the speaker is waterproof up to 5 feet.
This tiny 4-inch bubble of fun can spit out some amazingly potent audio – not to mention that it has a 13-hour battery life (compared to the 10 hours that the original UE Wonderboom delivered) and a Bluetooth range of 100 feet.
If you are looking for a bit of stereo sound, you can always pair a couple of UE Wonderboom's together.
Buy the UE Wonderboom 2 here on Amazon.
Pros
Portable design
Quality bass
Waterproof
Cons
The price is considerably higher, compared to the previous version (Sony XB10)
The Sony SRS-XB12 is an awesome combination of portable design and excellent bass.
Considering its compact size, this small speaker has a surprisingly great volume that is emitted with quite a bit of clarity. Additionally, the dynamic range makes sure that the highs and lows are sufficiently covered.
It is hard to believe that a tiny piece can blast out a subwoofer-like bass, but you will start believing once you use the Sony SRS-XB12 every day.
A big bonus is that the speaker is waterproof and comes with a loop that makes it easy to hang or attach.
Buy the Sony SRS-XB12 here on Amazon.
Pros
High sound quality
Compact design
Powerful battery
Cons
Some users are having problems with the USB charging cable
This portable Bluetooth speaker is an excellent option for people not willing to sacrifice their music while traveling.
While the Soundcore Mini might be a space-saver, it does not compromise on the sound quality. The speaker is all about substance over style, and the compact, minimalist design makes sure that functionality reigns supreme. In fact, it even contains a rubber footing that ensures that the speaker stays in one place.
The speaker also has a healthy battery that can last for multiple days without requiring a recharge. Also, the auto-off feature, activated when the speaker remains unused for about five consecutive minutes, further helps to preserve the battery.
Buy the Anker Soundcore Mini here on Amazon.
Pros
360-degree sound
Google Assistant integration
Comes with useful accessories
Cons
There have been complaints about the speaker cover
JBL's been producing some of the best portable speakers around, which explains why they have had a staunch fan-following – especially for the last two to three years.
The new JBL Link Portable comes with 360-degree sound and Google Assistant Integration. The speaker also has several useful accessories such as a charging cradle that you can carry for your trips outside.
A fully charged Link Portable will fetch you a good eight hours of juice, and the speaker can remain waterproof for 30 minutes over a range of a meter.
Buy the JBL Link Portable here on Amazon.
Pros
Improved design
High-quality sound
Water-resistant
Cons
The speaker tends to vibrate away at higher sounds
JBL GO 3 is one of the company's smallest speakers, but it is also the one that received the largest improvements for the year 2021.
The result of those changes is a transformed look for the JBL GO 3- instead of the raw plastic design associated with previous GO models, the speaker has now been covered using durable fabric. Along with the new design, the surprisingly high-quality sound (considering the speaker's size), makes the GO 3 one of the top small Bluetooth speakers that you can get your hands on.
Moreover, the speaker is available in multiple colors, and, with an IPX water-resistance rating of 67, you can easily dunk the Bluetooth speaker into the water without having to worry about any kind of damage. It is also dustproof and has a battery life of 5 hours.
Buy the JBL GO 3 here on Amazon.
Pros
Improved, more rugged design and better durability
Better sound quality and volume
Greater bass
Cons
A lower water-resistance rating compared to JBL Clip-3
Yet another JBL speaker on our list. For the first three generations, the company's Clip Bluetooth speaker came in a circular design.
However, the fourth generation has seen a shift towards a more oval speaker shape. Also, the speaker has been slightly bulked up, along with the addition of USB-C charging. Thanks to a more robust integrated carabiner, the latest JBL Clip model also appears more durable.
As far as sound quality goes, there has been an improvement in volume, clarity, and bass. With a water-resistance rating of IP67, the Clip 4 might not be as water-resistant as its predecessor, but the fact that it is dustproof makes up for it.
Buy the JBL Clip-4 here on Amazon.
Verdict
The combination of quality drivers and other sophisticated features make the Anker Soundcore our top pick from this list.
However, if you are looking for a small Bluetooth speaker that does not compromise on aspects such as sound quality, waterproof abilities, and battery life, it is hard to go wrong with any of the best Bluetooth speakers discussed in this guide.
FAQs about small Bluetooth speakers
How do small Bluetooth speakers work?
Every Bluetooth speaker comprises three primary components: a driver, crossover, and cabinet.
The driver is responsible for using electrical energy and converting it into mechanical, which leads to the production of various sound pitches.
The crossover, with help from the driver, divides the audio signal and split up the sound pitches into several distinct audio bands.
The cabinet, meanwhile, performs the task of containing the Bluetooth speaker's internal components, while controlling the sound waves and impacting the manner in which the sound is produced.
Is it possible to use a waterproof Bluetooth speaker underwater?
In general, even Bluetooth speakers that are waterproof are not designed for underwater use, as they can damage the device in the long-term.
Having said that, almost all Bluetooth speakers have an IPX rating that provides you a fair idea about what you can and cannot expose a particular speaker to.
A speaker with an IPX0 rating is not water-resistant at all, while a speaker possessing an IPX8 rating can be submerged into the water beyond a depth of 1 meter. Naturally, the speaker you choose will be based on your specific needs and whether you need your speaker to be able to endure mere splashes of water or if you need it to be completely submerged in water.
Can saltwater damage waterproof Bluetooth speakers?
Most Bluetooth speakers cannot overly resist seawater. The IPX ratings do not consider the possibility of Bluetooth speakers being submerged in salt or seawater. Hence, it is possible that seawater submersion will likely degrade your device over time, most Bluetooth speakers can handle seawater splashes.
How is a waterproof Bluetooth speaker protected?
Waterproof Bluetooth speakers come with multiple protective levels. The most common of those protective levels is what is called the conformal coating, designed to secure the printed circuit boards from elements like chemicals, moisture, and various levels of temperature.
Nanotechnology is another protective layer, which employs nano-sized particles for the creation of anti-UV, foolproof, and waterproof layers. Certain waterproof Bluetooth speakers walk the extra mile and implement the application of the superhydrophobic coating, which, as can be judged by the name, is a type of nano-coating designed to keep the Bluetooth speaker waterproof.
Factors to consider before buying a waterproof Bluetooth speaker
1)     Portability
Certain Bluetooth speakers are almost as small as soap bars, while others are weightier affairs that can cover an entire sideboard. If you are looking for a travel speaker, you need to ensure that the device you choose can be easily packed with your luggage. The aim should be to strike a balance between sound quality and high portability. Generally, the bigger the size, the beefier your Bluetooth speaker will sound.
Naturally, a portable Bluetooth speaker should have an in-built battery. Typically, a portable Bluetooth speaker will have a battery life ranging from 5 to 10 hours, but certain speakers can last for as long as 24 hours.
2) Loudness and distortion
Loudness, of course, is an important factor when considering a portable Bluetooth speaker to buy. You can either check with the company or look up online to learn about your preferred speaker's loudness.
Do not forget to pay attention to the frequency range as well, as a quality speaker should be able to produce frequencies between 100Hz and 20,000 Hz.
Ideally, any best-sounding small Bluetooth speaker should be able to deliver high volumes of sound without creating even the slightest distortion.
3) Waterproof ability
Electronics and water do not generally make a friendly combo, so you will have to make sure that your Bluetooth speaker is waterproof to at least a certain level. The IP rating of the speaker will help you determine the extent of its waterproof ability.
A speaker with an IPX4 rating, for instance, can survive a few spills and splashes, making it a desirable choice for kitchens and picnics.
Speakers with IPX7 ratings, on the other hand, can survive torrential downpours and even endure some hard knocks. The same goes for speakers with IP67 ratings, with the only difference being that these speakers are also dust-proof.
If you are looking for a speaker that can be your poolside companion, you might want to look for one that has an IP68 rating, because, theoretically, you can submerge a speaker with that rating at depths of up to 1.5 meters long for a minimum period of thirty minutes before it starts losing its ability.
If you want a speaker for your visit to the high seas, you will want one that can float, in case you end up dropping it inside the sea.
4) Smartness
Numerous Bluetooth speakers can do much more than stream music. A smart speaker allows you to access virtual assistants like Siri and Google Assistant.
5) Multi-room
Often, one speaker does not prove to be sufficient.
Thankfully, wireless technologies like Wi-Fi and Bluetooth have made multi-room audio very affordable and budget-friendly.
If the idea of pairing several speakers sounds appealing to you, know that numerous speakers are supportive of Bluetooth and Wi-Fi, and those speakers are integrable into a multi-room type of system.
6)  Aux input
Certain Bluetooth speakers come with an aux-in, generally known as a line-in socket. With such speakers, you can create a connection with audio sources with the use of a cable.
This could prove beneficial for several reasons.
Firstly, it will help you get rid of your dependence on a Bluetooth wireless connection. Most old Bluetooth speakers have an operational range of somewhere between 10 and 30 meters – beyond that, they fail to retain the connection. When you use a good, orthodox cable, you do not have to worry about losing connections.
Secondly, with an aux port, you can use your Bluetooth speakers with non-wireless, older components such as a CD player or record player, or maybe even a smartphone that contains a 3.5 mm headphone socket. It is even possible to connect your TV in this manner.
7)  aptX HD supportability
If you are into high-resolution audio or are very particular about the quality of sound, it is worth considering buying a speaker that is supportive of aptX HD. This is the audio codec designed to be compatible with 24-bit audio streaming through Bluetooth, thereby reducing distortions.
Almost all modern Bluetooth speakers are supportive of the aptX, which can deliver music at 16-bit/44.1 kHz – much like a CD. However, aptX HD supportability is a feature that comes with Bluetooth speakers which are more audio-focused.
Of course, a source that can stream aptX HD audio will also be required. Since Apple has opted out of this, your iPhone is going to be of little use to you in this regard. However, numerous premium Android phones are compatible with aptX HD. Alternatively, you can go for a high-resolution player as well.
In simple words, if you are after pristine sound, you should go for a Bluetooth speaker that has aptX HD as part of its specs.
8) Separate radiator/bass driver
Generally, good speakers come with separate bass radiators that enable better bass delivery.
Furthermore, it also creates more space for the main driver to produce detailed and crisp mids, balanced highs, while the passive radiator can deliver clear and powerful lows.
It's useful to learn more about how your preferred speaker delivers audio.