If you're asking what kind of headphones does Markiplier use, you already know who Markiplier is.
And the quick answer is a "Sennheiser HD 598 Cs Closed Back Headphone."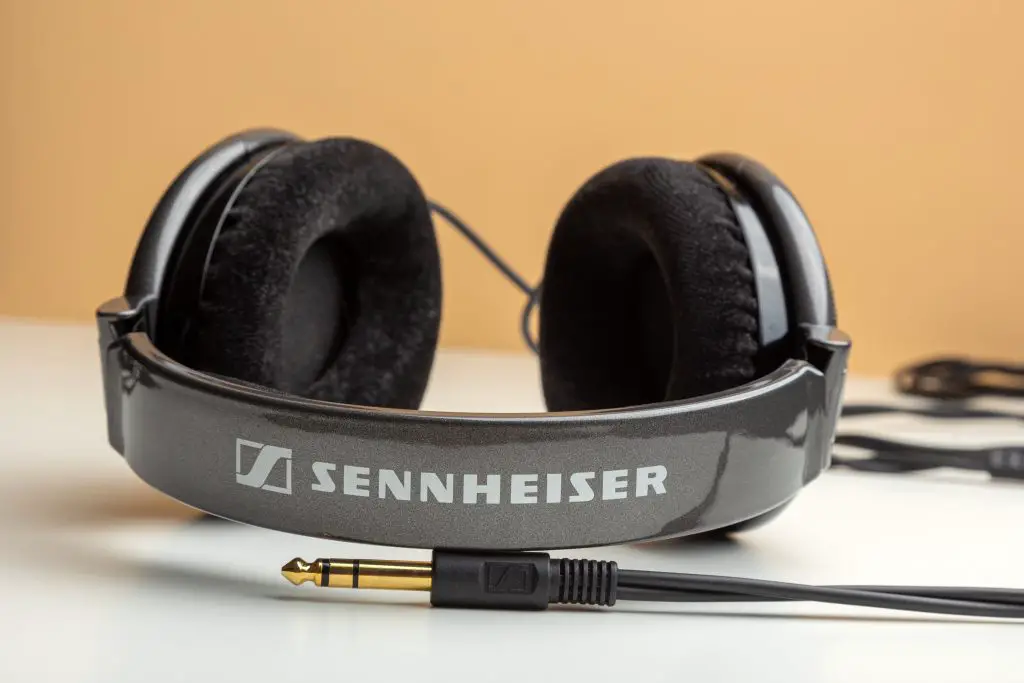 But if you're like me and had never heard of him, you're in for a surprise.
So who is he, and why does it matter what headphones he uses?
First, let's find out and then look closer at the headphones Markiplier uses.
Who is Markiplier?
Markiplier is the pseudonym for Mark Edward Fischbach.
He is a 32-year-old born in Honolulu, Hawaii (28th of June 1989) who started his career in Cincinnati, Ohio, but resides in Los Angeles.
Nothing unusual so far, is there? Except perhaps for his "stage" name.
Here's where it gets more than interesting.
"Markplier" plies his trade on YouTube. And that trade?
It is a YouTube channel that has (at the time of writing) 29.9M subscribers with over 16 billion (yes, that's right; billion) video views since it started in 2012.
These are mind-boggling numbers and even more so when you consider what the videos are about.
Markiplier describes his channel as where "you'll find some hilarious gaming videos, original comedy sketches, animated parodies, and other bits of entertainment!"
He has become famous in the gaming world for sensational commentary on video games. The language he uses is "colorful," to say the least: the theatrics cover the gamut from yelling to screaming to cursing and sometimes crying. And it is not censored to delete the profanity that peppers the commentary. Though, he does clean up the swear words in the subtitles, e.g. 'duck.'
But it's not just his audio that is colorful. Over the years, he has dyed his mustache pink and colored his hair in many different shades, from pink to blue to red.
The fame and audience he has achieved on YouTube have made Markiplier a lot of money. Forbes magazine listed him at No. 5 in the list of the highest-paid YouTube stars of 2020 with estimated earnings of $19.5 million.
So if you're making that much money from video's you'd have to think the equipment Markpier uses is vital to the quality of the videos he creates. And that's where the link to headphones comes in.
Headphones are an essential part of making his videos. And what he uses might give you a lead as to what headphones are best for you.
What Headphones Does Markiplier Use?
Sennheiser is the primary brand of headphones Markiplier uses. For a period, it was a Bose model, which I'll talk about later.
In the meantime, let's look at the Sennheiser headphones model he uses and whether they might be the way for you to go (there's a catch which I'll talk about soon.)
Sennheiser HD 598 Cs Open-Back Headphones
Markiplier has been using the Sennheiser HD 598 Cs Open Back Headphones since around 2018.
Let's look at some of the features of these headphones that might be why Markiplier is still using them in 2021.
Comfortable and Lightweight
The padded leatherette headband is easily adjusted to fit different-sized heads with soft luxurious velour ear cushions that rest gently on your ears. Extreme comfort is perhaps overstating it, but these headphones come close.
It means you can wear them for long periods without any discomfort, just as Markiplier does to make his videos.
Open-Back
The back of ear cups on open-back headphones face outwards and are open to airflow. It means the sound escapes two ways: into your ear and out into the surrounding environment.
That makes them more breathable with less ear fatigue, allowing you to listen for more extended periods than you might with closed-back headphones.
Yes, there is sound leakage, so others around you will likely hear the audio, which your companions might find annoying. But it's not a problem for Markiplier because he's in a room by himself when he's recording videos.
High-Quality But Not Specifically Designed for Gaming
The HD 598 pair of headphones are of high caliber, with the unique sound quality of the open-back design. And even though Markiplier uses them to create videos of playing games, they are not customized gaming headsets targeted at gamers.
As a wired headphone set, they have a heritage dating back to 2010. And especially noteworthy in that heritage is their compatibility with every type of audio device, from tablets to smartphones to computers and stereo devices.
But There Are Some Downsides with the HD 598 Cs
There is no modern surround sound technology built into these ear headphones. It means a less than ideal 3D sound, so if you're a gamer, you'll probably be disappointed.
There is limited noise isolation because of the open-back design. If you don't want to hear noises around you, these headphones are not for you.
While they are high-quality headphones, that's all they are. There is no microphone, so if you are a multi-player gamer, you'll need to shell out extra for an external microphone.
These are not issues for Markiplier; otherwise, he would not be using them. But if you're looking to take the lead on buying new headphones, be aware of the above downsides.
And the Main Downside?
The other major issue I alluded to earlier is that the Sennheiser HD 598 Cs Open-Back Headphones are no longer in manufacture. So buying this model of Sennheiser new is no longer an option and even getting a secondhand unit is highly unlikely.
Surprisingly though, the Closed-Back version is still available on Amazon. But that gives you a different sound experience.
To move to a similar open-back experience in the HD range and at a similarly affordable price, you should consider the Sennheiser HD 599 SE Around-Ear Open Back Headphone on Amazon.
It's interesting to note that Marikplier has used headphones from another German audio company in the past. For example, back in 2016-2017, he was using the classic Bose headphones, the Bose QuietComfort 35 wireless headset. So let's take a look at the QuietComfort 35 and see what might be of interest if you're looking for a new headset.
Bose QuietComfort 35 (Series I) Wireless Headphones
There are some differences between the QuietComfort 35 and the HD 598 Cs.
The QuietComfort 35:
is a wireless headset, so you don't have to worry about getting tangled in your wired connections
are noise-canceling headphones with a closed-back that effectively closes out all external noise to provide a focused listening experience
is Bluetooth enabled, so it needs to connect to Bluetooth devices
But there is one similarity, which doesn't help. The Series I headset is no longer in production, replaced by the Bose QuietComfort 35 Series II (here on Amazon), which, like the Series I, is in a higher price range than that of the Sennheiser HD 598 Cs Open-Back headphones.
In Summary – What type of headphones does Markiplier use?
Markiplier headphones of choice over the last three or so years are the Sennheiser HD 598 Cs Open-Back Headphones. Before that, for a year or so, he was using the Bose QuietComfort 35 (Series I) Wireless Headphones.