Do you want to use your AirPods with your Xbox One?
Well, you can, but not straight away because the Xbox is not set up out of the box to talk to AirPods or AirPods Pro.
Let's first look at why it's not straightforward to use your Apple AirPods with the Xbox One.
Second, look at two ways we can.
And finally, examine if we should bother.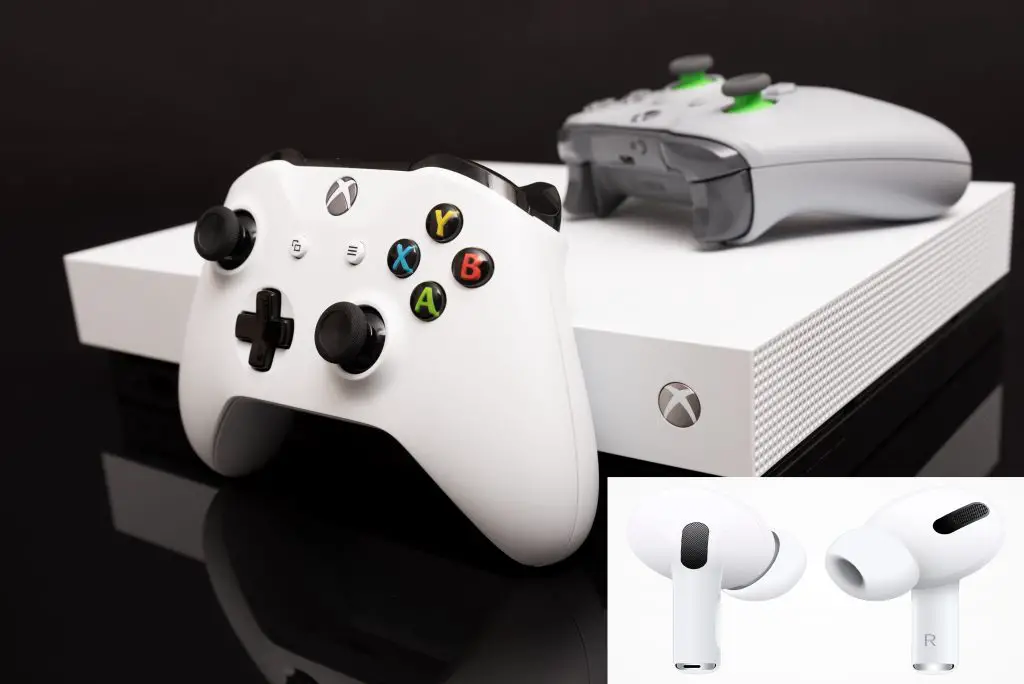 The Xbox One Doesn't Support AirPods
The Xbox One doesn't support Bluetooth pairing, so, AirPods being Bluetooth devices, can't be paired directly with the Xbox One console. Similarly, you cannot connect AirPods with the Xbox One controller.
It's because Microsoft took a different approach when they designed the communication capability of the Xbox One.
Microsoft wanted reduced latency and an improved audio experience when using headphones, so they developed a unique, in-house wireless protocol. This protocol uses a higher radio frequency than the 2.4GHz radio frequency used by Bluetooth to provide what Microsoft believes is a better audio experience.
So does this mean you cannot use your AirPods with the Xbox One and have to buy Xbox-compatible headsets?
Fortunately no. Let's find out how.
Can You Use AirPods on Xbox One?
You can use AirPods on Xbox One, and it's reasonably simple to do, but it's not perfect.
You'll have to compromise, though.
Let me explain.
Once set up, you can chat with your friends or listen to the in-game audio. But you can't do both.
AirPods are not for you if you're a competitor or avid observer and want to hear the in-game audio and talk to your friends via wireless headphones at the same time. Instead, you'll have to buy an Xbox One compatible gaming headset certified with Xbox Wireless.
If you're happy to compromise, the AirPods are fine. If you only want to hear the in-game audio and not talk to your friends, you're good. Just want to talk to your friends? You're good.
So how do you do this?
There are two ways:
The App way
The Bluetooth adapter way
Let's look at each way in turn.
Method 1 – Connecting AirPods to Xbox One With the Xbox App
Connecting AirPods to the Xbox One with the Xbox App requires downloading it to your compatible mobile device.
For an Android device (v6.0 or later), access the Google Play Store. For iOS (10.3 or later), access the App Store.
Once installed on your device, it's easy to use your AirPods while gaming or streaming on the Xbox One.
You can either create a chat session with friends or listen to the in-game audio.
Create a Party chat session with the Xbox App
Here's what you do to get going:
connect your Android or iOS tablet or phone to your AirPods – it's best to ensure you are on a Wi-Fi internet connection with an unlimited data plan
launch the Xbox app on your phone and sign in using your Xbox (Microsoft) credentials. Make sure it is the same account you use on the Xbox One.
already used the Xbox app on your device? no problem (go to #5)
if not, select Add New Account and enter the correct Microsoft credentials
Press Let's Play
select the Parties icon (looks like three people)
choose to Start a Party, and it will assemble instantly
press the Invite to Party option to add your friends
add as many as you want by tapping on their names (deselect by tapping their name again)
press Send Invitation to invite everyone selected – they will get a notification (on their Xbox One console or their Xbox app) asking them to join
put on the AirPods and start chatting with your friends
stop by pressing Leave Party and take off your AirPods
Listen to the In-Game Audio with the Xbox App
take Steps 1 to 4 above
via the Xbox app's main screen, tap on the Xbox icon present next to the bell or ring icon on the top right side
tap on the 'Remote play on this device' button
wait until the device connects to your Xbox console (this may take a little while)
when the connection succeeds, you will be able to see your Xbox screen mirrored on your device
now you can use your Xbox controller to navigate through the interface
put on your Apple AirPods or AirPods Pro
if you have already paired your AirPods, they will connect automatically
if this is the first time, turn on the Bluetooth and connect them
The phone will act as a middle man to connect the two devices and allow you to hear the Xbox's audio from the AirPods.
If you want to avoid battery drain, lower the brightness of your device. Better still, do this as well as leave the device on charge.
The beauty of the Xbox App approach is that it is free. Not so when you take the Bluetooth adapter approach.
Method 2 – Connect Using a Bluetooth Adaptor
You can buy a Bluetooth adapter that plugs into your Xbox controller and provides Bluetooth audio capability to use your AirPods.
But it means you have to fork out extra cash to purchase the adapter.
FAQ's
Are AirPods Your Best Choice for Xbox One?
AirPods for the Xbox One is a compromise, so not your best choice.
Yes, using AirPods means you can talk with your friends, or you can listen to the in-game audio. But you cannot do both at the same time. Furthermore, it takes extra effort to set them up and then get them going.
And they are not the best choice for the full-time gamer looking for high-quality in-game audio. Wired headphones rather than wireless headsets work the best, and they don't require any apps or additional purchases.
Are there Better Communication Apps Than the Xbox App?
Many gamers will say that while Xbox App works fine, Discord is the best app for in-game communication for several reasons:
it draws the least resources from your device
it has excellent customization
it is easy to use