The Bluetooth speaker is an amazing invention that has made speaker connectivity much easier and more user-friendly over the 2 decades since its initial launch. However, these days, audiophiles all over the world have found themselves wanting more from their Bluetooth speakers. 
The desire to increase the maximum volume output of a Bluetooth speaker system and the increased popularity of surround sound has made more and more music lovers wonder if it's possible to use 2 Bluetooth speakers at the same time. The answer to this question depends on many factors, including the technology and software you have access to and the kind of results you want to achieve. 
In today's article, we'll be answering the question, can I use 2 Bluetooth speakers at the same time. We'll discuss the options you have available, as well as potential obstacles you might encounter and the best solutions.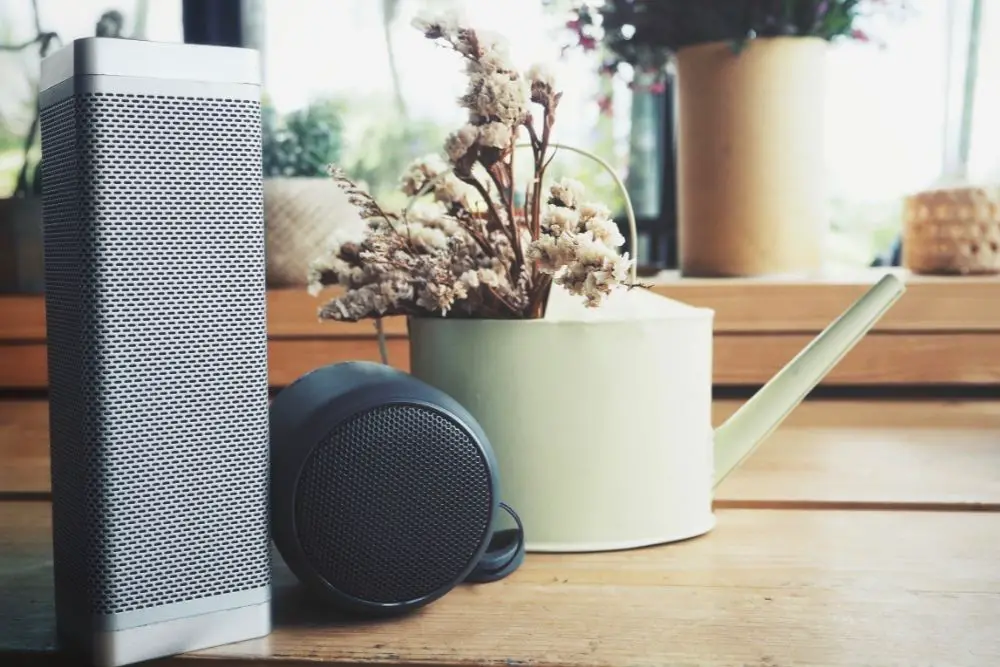 Why Use 2 Bluetooth Speakers Simultaneously?
Before we delve into the logistics behind using 2 Bluetooth speakers at the same time, it's worth discussing the many reasons why somebody might want to use 2 different Bluetooth speakers at the same time. 
Mostly, people consider using 2 Bluetooth speakers at the same time when they want to increase the volume of the music they are streaming or create a surround sound effect without having to break the bank on an actual surround sound audio system. 
Another common reason why 2 Bluetooth speakers might be used simultaneously is if you want to stream the same music in different rooms at the same time. This could be useful for hosting parties, for example, or if you're cleaning your home and don't want to have to carry one Bluetooth speaker around with you. 
One could argue, in this case, that a Bluetooth headset would be your best option, but if you have 2 Bluetooth speakers and no headset, 'buy a Bluetooth headset' probably isn't the solution you're looking for. 
Anyway, regardless of why, in particular, you're considering using 2 Bluetooth speakers at the same time, you're probably anxious to know whether or not doing so is a possibility. So, without further ado, let's talk about your options!
Using 2 Bluetooth Speakers at the Same Time: Can It Be Done?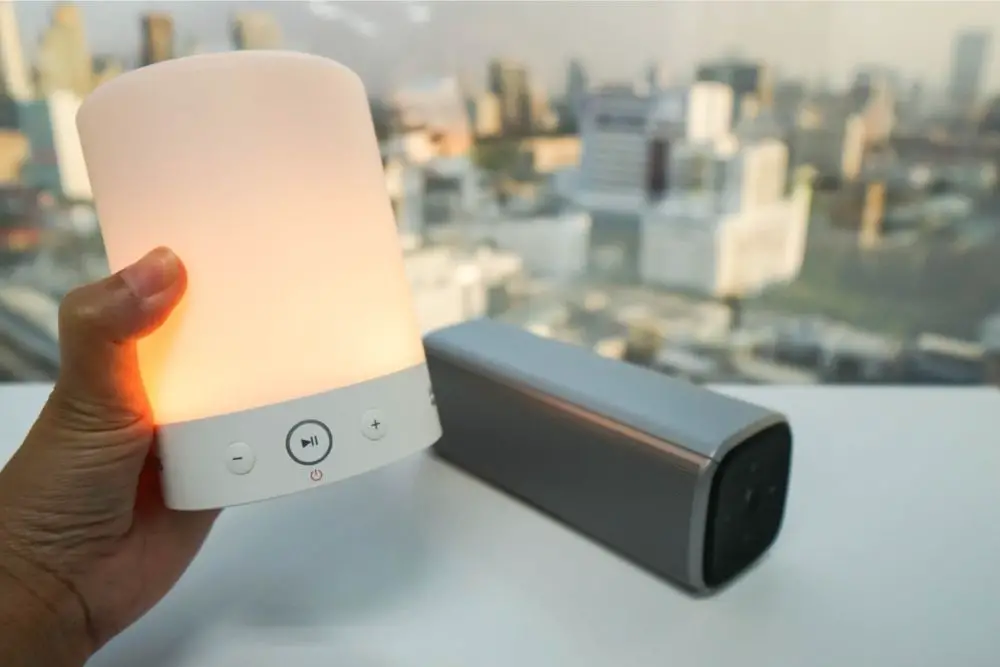 The short answer to this question of whether it's possible to use 2 Bluetooth speakers at the same time is yes. It is possible to connect 2 Bluetooth speakers to a single device simultaneously. 
However, this process can be more complicated depending on what technology you are working with. Read on to find out your different options for connecting 2 Bluetooth speakers to a single device at the same time. 
1. Bluetooth 5 
Bluetooth 5 is the most recent and advanced version of Bluetooth. Unlike previous Bluetooth technology, Bluetooth 5 devices can sustain 2 connections simultaneously. In addition to being able to connect 2 Bluetooth speakers at once, Bluetooth 5 offers some other pretty significant benefits for streaming. 
For one thing, Bluetooth 5 is twice as fast as Bluetooth 4.2. This means that your streams are less likely to lag, making for a more enjoyable experience for everyone. If you already own a Bluetooth 5 device, this is great news for you! You already have the tools available to connect 2 Bluetooth speakers to your phone, tablet, or computer. 
If you don't already own a Bluetooth 5 speaker, don't worry – although they are advanced devices, you can find them through online retailers for reasonable prices. For example, the OontZ Angle 3 Ultra Waterproof 5.0 Bluetooth Speaker can connect to 3 other OontZ Angle 3 speakers to stream music from the same device. 
2. Dual Audio (Samsung Feature)
If you own a Samsung smartphone in the model Galaxy S8 (or S +) and 2 Bluetooth speakers, you'll be pleased to hear that you already have everything you need to use 2 Bluetooth speakers at the same time! 
All you need to do is go into the Settings menu on your phone and select the Connections icon. From there, select Bluetooth. Once you've done this, you will need to navigate into your Advanced settings. You should be able to see an option for Dual Audio next to a switch. Drag the switch into the 'On' position and select the 2 devices you want to use. 
This method works with the majority of Bluetooth speakers and headsets. 
3. AmpMe App
The AmpMe App is free to download and is compatible with many different types and brands of Bluetooth speakers. With AmpMe, you can synchronize your Bluetooth speakers to play any audio that you stream from your device simultaneously. 
However, AmpMe can sometimes (although not always) produce laggy stream quality when used with Bluetooth devices running on Bluetooth 4.2.
If you own speakers that use Bluetooth 5, then you will have no need for AmpMe since Bluetooth 5 devices already have the ability to connect to other Bluetooth speakers for synchronized streaming. Therefore, although AmpMe is arguably the best Bluetooth speaker synchronization app out there, it may not consistently provide you with the perfect streaming experience. 
Additionally, although AmpMe is free to download, it does have in-app purchases to use the more advanced features. It also does not allow streaming from Spotify unless from Premium accounts. 
There are some additional perks of AmpMe, though! It allows for video streaming as well as audio, and it also has a very social aspect to it that other apps do not offer. You can connect the app to your social media accounts (Google or Facebook) and share audio and video with your contacts. 
4. Bose Connect App 
The Bose Connect App is an easy and cost-effective way to use 2 Bluetooth speakers at the same time. 
Once you've downloaded the Bose Connect App to your smart device, you can access the Party Mode function, which allows you to connect up to 2 Bluetooth speakers. 
The downside of this app as a method of connecting 2 Bluetooth speakers simultaneously is that it only works for Bose brand speakers. Therefore, if you have any other type of speaker that doesn't need replacing, the Bose Connect App won't be of any use to you. 
With that being said, Bose has a wide range of advanced speakers designed to suit various different needs. From the Bose SoundLink Micro, which is designed for ultimate convenience and portability, to the Bose Surround Speakers 700, built to deliver an intense and immersive sound experience, there truly is something for everyone in the Bose Bluetooth speaker range.
5. Ultimate Ears 
Ultimate Ears is both a Bluetooth speaker manufacturer and an app, and it's one of the best ways of streaming audio from 2 Bluetooth speakers at the same time. 
When connected to the Ultimate Ears app, your Ultimate Ears speakers can connect with one another to play audio at the same time. 
There are many high-quality Bluetooth speakers in Ultimate Ears' range, including the Ultimate Ears MEGABOOM 3 Waterproof Wireless Bluetooth Speaker, which is portable, powerful, and durable.
The Ultimate Ears WONDERBOOM Portable Waterproof Bluetooth Speaker is another very popular Ultimate Ears Bluetooth speaker, which is even more portable than the MEGABOOM 3, although you wouldn't know that from the sound.
Other speakers in the Ultimate Ears range include the BOOM 2, BOOM 3, and MEGABLAST, plus many more.
Once you've purchased your Ultimate Ears Bluetooth headphones, you can download the app, which is compatible with iOS and Android devices. Having downloaded the app, you can then access the sound settings.
You can keep your app set to the Standard setting, which delivers excellent sound, or you can adjust the sound balance to increase the bass, foreground voices, or sound better in smaller spaces. 
6. JBL Connect (+) 
JBL is a well-known and well-reviewed brand known for manufacturing audio devices and equipment. In particular, JBL manufactures some of the best Bluetooth speakers on the market. 
Some of JBL's most popular speaker models incorporate features and functions to facilitate interconnectivity between speakers. These specific models are dual-connection-enabled through the use of JBL Connect or Connect + technology. JBL speakers that support the PartyBoost feature also allow for multiple JBL Bluetooth speakers to sync. 
The JBL Boombox Waterproof Portable Bluetooth Speaker, for example, has the Connect + function, so it can wirelessly connect to other JBL Connect + speakers. It's also waterproof and can stream audio for 24 hours at a time on a full charge. The JBL Charge 4 has similar features for a more affordable price but has 4 hours less playtime.
7. HomePod Stereo Pair (Apple Feature)
This method can be quite complicated (and potentially expensive) to set up because you need to have certain pieces of technology with the correct specifications and in the correct versions in order to enjoy a seamless experience. However, if you have the right tools, it works really well. 
The first thing you'll need is an Apple smart device. This could be an iPhone, tablet, or iPod, but it needs to support iOS 11.4 or a more recent version. You will also need 2 HomePod-compatible speakers. The speakers must be compatible with the HomePod, or the set-up simply will not work. 
Finally, you will have to download Apple's Home app to your Apple smart device. The app is easy to navigate, making it easy to find the Stereo Pair settings. From there, all you have to do is select the Bluetooth speakers you want to sync up. 
Final Thoughts 
As you can see from the above list of solutions, it is certainly possible to use 2 Bluetooth speakers at the same time. However, doing so successfully often depends entirely on having the right technology at your disposal. 
If you already own 2 speakers with Bluetooth 5 enabled or have a Samsung Galaxy S8 or S+ in addition to 2 Bluetooth speakers, you're all set! If you own 2 Bluetooth speakers from different brands, the AmpMe app is likely to be your best option. 
Alternatively, if you already own or are prepared to invest in Bluetooth speakers from Bose or Ultimate Ears, you can use the compatible app to connect your speakers. Alternatively, if you own an Apple smart device enabled for iOS 11.4 or later, plus 2 HomePod Bluetooth speakers, you can connect your devices using the Apple Home app.
JBL connect speakers with the Connect +, Connect, or PartyBoost function can connect wirelessly to one another for simultaneous use.