Open waters can be amazing.
Whether you are out fishing or simply reveling in the all-encompassing nature of the sea, it can be quite "quiet" and peaceful.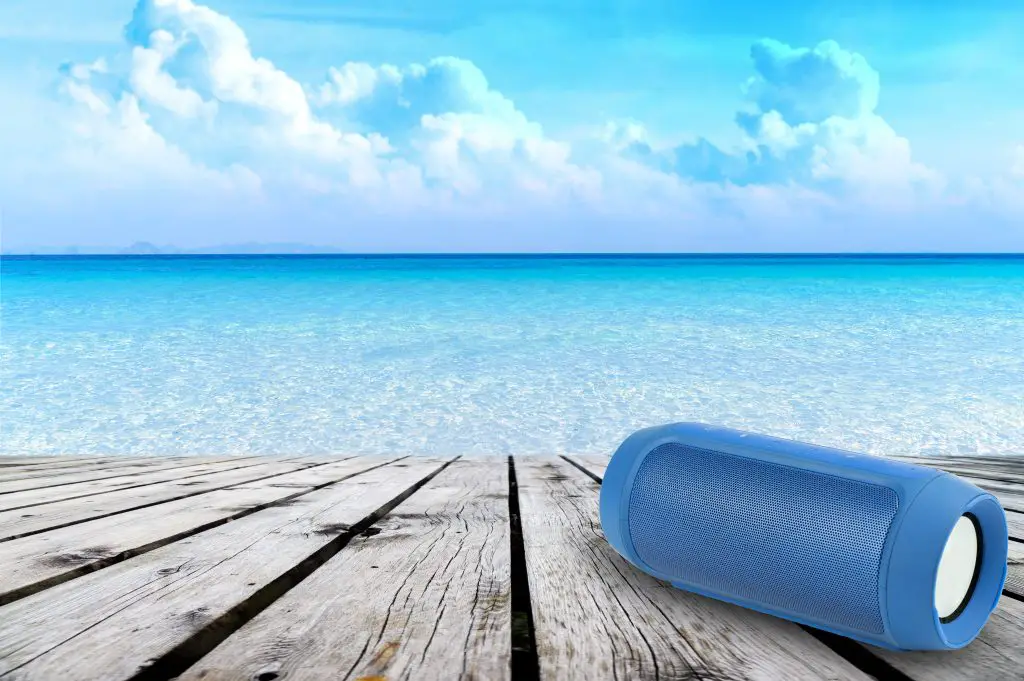 But if the quiet of nature is not your idea of fun, then find the best waterproof Bluetooth speaker for boat and spruce up your outdoor fun.
The flow of music can be just as pleasurable for your ears as the flow of water is for your eyes.
But only if you choose the right product. That's what this list is about, i.e., helping you choose the best waterproof Bluetooth speaker for a boat that you can take to the waters with you.                      
Best Waterproof Bluetooth Speaker For Boat List
Pros
Excellent quality of sound and powerful bass
No distraction at high sounds
Rugged build
You can connect two devices at once
Cons
Low battery life
Few hours of performance per full charge at max
JBL speakers top the chart in several categories, so it should come as no surprise that the JBL Flip 4 is the top contender on this list. It's one of the most reviewed yet highly rated waterproof speakers on Amazon-com right now, but it's not just the JBL tag and the love of its users that has earned it the top spot.
JBL Flip 4 comes in a relatively sleek cylindrical body and a variety of color choices that range from tasteful to funky. The speaker can be used standing vertically up or lying down. Its design is unobtrusive and modestly pleasing to the eyes.
The price tag is a bit in the higher range compared to many others on this list, but it's well worth it. You can get it for a lower price in the generic black colors or spend a bit more for different skin.
But the sound and the bass are where this little speaker truly shines. It's loud, and it's clear, which means you won't hear crackling noises even if you crank the music to the full volume.
The build quality is amazing, and many consumers have vouched for its ruggedness in a variety of environmental conditions. The IPX7 rating and the waterproofing housing also work well, and unless you take it to the bottom of the ocean, the speaker will keep blasting music away when submerged as well (though only fish will get to enjoy that).
One chink in the armor of JBL Flip 4 is the battery. The timing doesn't go near the 12 hours claimed, especially if you are drawing out the maximum sound. So set your expectations for a fraction of 12 hours.
Check out the JBL FLIP 4 on Amazon here.
Pros
Decent battery timing
2-year limited warranty
The sound is loud enough for the outdoors
Decent build
Best Bluetooth range
Cons
You cannot take calls on this Bluetooth speaker
No visual indicator for battery timing
Ultimate ears have a few strong contenders when it comes to Waterproof Bluetooth speakers, but the Wonderboom wins by a significant margin. It's a stout little speaker with a squat and thick build. It's just about 4 inches tall, making it a "mini" speaker, but the sound it produces is by no means small or contained.
It's designed for the outdoors and reaches a decent 86 dBC (Maximum Sound Level). It has two active drivers and two passive radiators, and the built allows it to project 360 degrees of sound, so if you can place it in the middle of the boat, it can project the same quality and intensity of sound every year.
Since it's one of the Ultimate Ears' portable speakers, it also comes with a little hang loop. This little waterproof speaker has a range of about 100 feet, so no matter the size of your boat, the ultimate years Wonderboom might be able to fill it with sound.
The bass is not very strong, but the sound is quite loud, though you might get the best quality if you stay within 80% to 90% of the maximum volume.
The operation timing per charge is decent enough (though a bit less than the company claimed 10 hours), and the build is rugged for more than just water. Many users have accidentally or intentionally "drop-tested" it, and it has survived the fall.
Two other Ultimate Ears speakers that are also waterproof and come with the IPX7 that bear mentioning are the Ultimate Ears Boom 3 (more streamlined appearance) and Ultimate Ears Mega Boom (can pair with 150 speakers). The Ultimate Ears Wonderboom takes the cake here, but other Ultimate Ears speakers are worth a try as well.
Check out the Ultimate Ears Wonderboom Portable Waterproof Bluetooth Speaker here on Amazon.
Pros
Great sound quality and clarity
An internal microphone allows you to take calls
It floats on water and has a robust build
The timing is as promised
Cons
Relatively small full range
Not loud enough for noisy parties and large spaces
The Mini H2O from Altec Lansing seems straight out of the company's glory days, albeit with a much lighter price tag. It costs less than half of what the two above do, yet it can be regarded as a great portable speaker you can take to the boat, especially for the price.
It's more suited to smaller boats and close-knit parties since it has an effective range of 30 feet. But it makes for the range with its rugged build and the ability to resist not just water but mud as well.
It has a sleek hexagonal design and comes in a handful of different colors. It also floats on water, making it an entertaining party gimmick.
The quality of sound is decent enough, but the battery life (though near to what it's promised by the manufacturers) is not too long. But you can take phone calls on it.
Check out the Altec Lansing Mini H2O – Wireless, Bluetooth, Waterproof Speaker here on Amazon.
Pros
Great bass and sound
Awesome battery life
It offers a wide variety of features
Aesthetically amazing
Cons
Quite Expensive
Directional sound, which overshadows its good quality and power
Sony is in a class of its own when it comes to feature-rich electronic products, which is evident in their high-end portable speaker with a rechargeable battery and waterproof housing.
It's the most expensive speaker on this list, but it justifies the cost, thanks mostly to its sound and bass quality. It has a two-way speaker system, which means that the sub is combined with a dedicated tweeter to offer a rich sound and cover more "frequency" ground.
Apart from raw power, the other things that make this an amazing speaker are its 24 hours battery life, multi-colored line lights, NFC connectivity, and its ability to charge smartphones.
This is powerful enough to entertain a whole party on your boat and can be a great outdoor choice. The build quality and sound quality it offers, along with its other features, make this an excellent device, even for the high cost.
Check out the Sony SRS-XB43 Extra Bass Wireless Portable Speaker IP67 Waterproof Bluetooth here on Amazon.
Pros
Great value for the money
Clear sound and amazing music quality
Long battery timing and power bank can be beneficial on a boat
Cons
Weak bass
Syncing issues for music and dialogue
The best thing we can say about this speaker is that things at its price are not good at doing multiple things at once, but it does. It comes with an 8000 mAh power bank, so users would have some extra "juice" on hand on boats, and it's also a decent quality, water-resistant device.
The best features of this speaker are its battery timing and audio quality. The battery will easily last you several hours, and the sound quality is very clear, even if you turn it up all the way. It has two full-range speaker drivers, two subs, and tweeters.
One thing that makes it different from others is that its IPX6, not IPX7, which means it's water-resistant, not waterproof. It would be fine handling the showers and sprays you get with your boat in the water, but it can't be submerged in water.
The Bluetooth can be connected from 100 feet so you can move away from your speakers, and the connectivity won't suffer.
Check out the 50W(70W Peak) Bluetooth Speaker 5.0, W-KING IPX6 Waterproof Wireless Outdoor Portable Speaker here on Amazon.
Pros
Beautiful design
You can take phone calls with amazing sound clarity
It connects with voice-activated devices
High-quality sound
Cons
Connectivity issues
Relatively weak bass
While these speakers look like a better fit for an office compared to a party, they can certainly be a treat to be around on a boat (whether or not there is a party on deck). They come in a smooth black no-nonsense, squarish design and an IPX7 rating, which means you can take them for a swim but only 1 meter deep (and for 30 minutes).
The sound quality, while direction, is quite amazing. Though the bass is not quite powerful, it's adequate enough, but apart from that, the sound reproduction is amazing and clear, at low as well as high volumes. So whether you play music or listen to lectures when you are out on a boat, these waterproof speakers might make the experience richer.
The build quality of this wireless speaker is pretty decent, but it might not survive too much rough handling. It's portable, but it might not be a "carry-everywhere" kind of device.
The battery life is apparently as good as the company claims, i.e., 24 hours for a full charge, but not if you are maxing out the volume. It's an excellent product for the price, whether you want to use it indoors or on a boat out in the water.
Check out the Anker Soundcore 2 Portable Bluetooth Speaker with 12W Stereo Sound here on Amazon. 
Pros
Great battery timing
Very affordable price
Decent bass quality
Visually appealing design
Cons
Not long-life
Less rugged than other Bluetooth speakers with a waterproof rating
If all you want to use your speakers for is rich bass, then they might disappoint, but the bass quality they offer for the price is remarkable.
The AY Portable is designed for outdoors, and like most other outdoor speakers, especially the ones that are ideal for boats, it's wireless, comes with an IPX7 rating, and can handle water splashes in a boat or around a pool.
It's also a good fit for you if you want something that's designed a bit differently. Its triangular build is a fresh look compared to other circular or square ones.
You can use the Bluetooth connectivity distance of 48 feet to your advantage if you are at a party, but it might not be needed in a boat. The two 15W speaker drivers can pump up the sound to 80 dB.
The company claims a full-day battery life, and the device adheres to that promise. If you want, you can use it for hours without even consuming half the juice. If you have two of them, you can use them both to produce 360 degrees sound, making them ideal for a home theater or a cabin-in-the-boat theater.
For the price, it seems to be one of the best waterproof Bluetooth speakers out there.
Check out the AY Portable Bluetooth 5.0 Speakers 30W Louder HD Stereo here on Amazon.
Pros
Great sound for the price
Powerfully resilient housing
Easy to pair
Loud sound
Cons
Audio lacks finesse
Difficult to press (and see) small buttons
AOMAIS Sport II looks cool; it's not gorgeous or beautiful; it's cool-looking. And it's also one of the toughest Bluetooth speakers around. Forget throwing it into the water, you can run a car over it, and it won't even damage the rechargeable battery. This goes way beyond mere waterproof rating and makes it a wireless speaker you can take with you, not just on a boat but on any other adventure.
But that's not all these speakers have to offer. If you want loud, the two 20W drivers can give you loud, and the audio quality is decent enough, though the bass is not amazing. So it might sound good in a boat but not so much in close confines.
The speakers are quite portable on their own, but you have to hold them and can't "carry" them. For that, you might have to spend a few bucks on a sing cover.
The manufacturer claims that you can use it for 15 hours on a single charge, and it hit quite close to that mark.
Check out the AOMAIS Sport II Portable Wireless Bluetooth Speakers here on Amazon.
Pros
Great value for the cost
A unique look
Decent battery timing
Cons
Relatively weak at low frequencies
Relatively shorter lifespan
Braven BRV-X has a very different design from any other Bluetooth waterproof speaker you might pick on this list. But apart from that, it ticks almost all the boxes. It comes with an IPX7 rating, which makes it ideal for boats. It can also sit under 1-meter water for 30 minutes without getting damaged.
It offers decent audio quality, but if you want something you can feel rumbling in your chest, the Braven might not be it. The battery life is amazing, so you can use it on a boat even when you are taking a long trip out on the water.
If you have two of them, you can benefit from the excellent quality of sound thanks to Braven's TrueWireless technology.
The device is built for rough usage and offers excellent ruggedness. And it's one of the best waterproof speakers for taking calls since the noise-canceling microphone makes it a blessing for the person on the other end.
Check out the BRAVEN BRV-X Portable Wireless Bluetooth Speaker here on Amazon.
Pros
Aesthetically pleasing
Excellent quality of sound
360 degree sound
Fully waterproof (IPX7 rating)
Cons
Relatively expensive
The design makes it awkward to carry and relatively less portable
Bluetooth connectivity issues
If you want your devices to make fashion statements and might like waterproof speakers (while inside its case) that look like a handbag, the Fugoo Style might be it. But it offers more than just a unique look. It offers 360 degree sound thanks to its eight systematically placed audio drivers/speakers.
The build is rugged, and it's shockproof, waterproof, and rough-handling-proof. The buttons blend seamlessly on the top cover, and you can use it as a power bank if you want. It's also bigger and heavier than a lot of other portable speakers, so if you want something small, it might not be the best pick for you.
It also offers an unparalleled battery timing of 35 hours, which is way beyond the norm, and a lot of users endorse its battery life.
But all the features, the rich sound quality, long charging life, and aesthetic value comes with a relatively high cost.
Check out the FUGOO Style XL- Portable Rugged Waterproof Wireless Bluetooth Speaker here on Amazon.
Pros
Decent-sound and build quality
Very affordable
A characteristic look
Amazing battery life
Cons
Bulkier than other portable speakers
Lights can't be turned off
Like most other similar speakers, the Asimom 28W looks right for a boat party, albeit in a different, more "silly" way. When lit up, the speaker almost looks like an old-school radio converted into a robot's face. The light lines on the sides look retro but attractive.
The speaker comes with an IPX7 rating, so it can be an excellent companion on a boat for an audiophile. It also offers a deep rumbling sound without compromising the finesse. The device is built for quality and comes with decent craftsmanship than many around the same cost.
The Bluetooth can be connected from 66 feet apart. The volume can get quite high without crackling, which already makes it better than many other devices in the same range.
Check out the Asimom 28W IPX7 Waterproof Portable Speakers here on Amazon. 
Pros
Excellent quality of sound
Can run for 20 hours on a single charge (lower if the volume is high)
Decent build quality
Cons
The bulky size makes it less portable and hard to carry around
A bit expensive compared to comparable devices
First off, the only reason that the JBL charge 3 is this low on the list of the best waterproof speakers with rechargeable batteries is that there is another JBL on this list. Otherwise, the JBL Charge would have been near the top as well.
It offers excellent sound quality, you can use it for a long time on a single charge, and has the characteristic JBL build.
While it's not exactly the flip side, this excellent sound, and build quality come with a sizable price tag, but the JBL charge is worth it. It's one of the best waterproof speakers you can take on a boat with you.
Check out the JBL Charge 3 Waterproof Portable Bluetooth Speaker here on Amazon.
Best Sounding Small Bluetooth Speaker Buying Guide
Sound quality   
Even in waterproof speakers, you might be considering when taking your boat to the water; you have to look for the quality of sound. You can read the reviews, watch videos where that speaker is used to play sound, and look into the number and quality of the drivers. For outdoor use, the quality of sound checks for a speaker might be a bit different from indoor ones.
Sound volume 
If proximity to water comes with a lot of noise for you, you might need speakers that are able to produce a decent volume. Check the wattage of individual drivers, maximum loudness (in decibels), and the distance it can cover in the speaker's specs.
Portability/size
For outdoor activities near water, you need a portable speaker you can easily carry in your hand or place in a bag. But some bulky yet powerful speakers might be worth the trouble, despite the fact that they might not be very portable.
Battery
The time your speaker can function for on just a single charge is very important, especially for long trips in the water. It's a huge plus if it also doubles as a power bank.
Durability
For rough trips in the water or near water (like pool and beach parties), it's important for the speaker to be durable and rugged so that it might be able to absorb the shock of the travel and being carried around.
Connectivity range  
It's less of an issue in a small boat and more of a concern when you have to move around a lot and far from the speakers. A range between 50 and 100 feet can be considered good, but you might find it in very few speakers.
Waterproof vs. Water-Resistant (IP ratings)
The only ratings you need to understand:
IPX7 rating (waterproof): It can handle being dipped in about feet of water for 30 minutes.
IPX6 rating (water-resistant): It can't be dipped in water, but it can handle strong showers, so it would be fine in a boat.
Price/value
There is a wide range when it comes to the cost of a waterproof Bluetooth speaker, so you should focus less on the cost itself and more on the value it offers.
Feature Set
Waterproof speakers are made for ruggedness and rough handling, so they might not pack a wealth of features. The ability to receive calls, connect with voice assistants and the ability to connect with multiple devices and speakers should be the features you should look into, but only if they are important to your boat trips.
Warranty
The warranty of waterproof devices is bound to come with a lot of stipulations, and you might have to provide proof that you didn't damage the device by handling it in a way that's deemed dangerous by the manufacturer.
FAQs:
What is the best Bluetooth speaker for sound quality?
The JBL Flip 4 and Altec Lansing Mini H2O are the best Bluetooth speakers for quality sound.
What is the loudest small Bluetooth speaker?
The Sony SRS XB43 Extra Bass is the loudest small Bluetooth speaker.
Which portable Bluetooth speaker has the best bass?
The Sony SRS XB43 Extra Bass and AY Portable Bluetooth 5.0 Speakers might have the best bass.
Verdict on the Best Waterproof Bluetooth Speaker For Boat
All the waterproof speakers on this list can be amazing choices if you want to hear music or take calls near bodies of water or take a boat trip; some of them stand out compared to others.
No matter what kind of music you like and whether you are an avid audiophile or simply looking for a good time on a boat trip, you might be able to find your fit here. Still, we would lean more heavily towards the top three speakers.